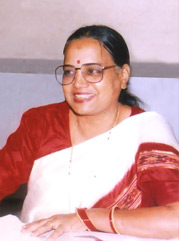 Dr. Deepa Martins was the founder Secretary of the Governing Body of St. Stephen's School Society and its founding light from its conceptualization until April 2003 when she left for her heavenly abode. While her legacy as the co-founder remains ingrained in all aspects of the ethos of the institution, this lecture series has for the last 18 years helped us immortalize her memory for posterity in the way she most relates to: socially aware and informed action, rooted in principles of love, compassion and harmony. For the last 19 years, on 5th April, her birthday, the School and the Ajmer community have benefited from visits of distinguished women in various fields who have shared their thoughts with us through this memorial lecture series. The topics of these lectures have been close to Dr. Deepa Martins life and works, promoting communal harmony in a secular society, women's issues linked to health, constitutional rights and gender equality, Kabir, inclusive learning and social activism through music, dance, theatre, art and importance of journalism and working with the marginalized.
The School has had the privilege to welcome and host luminaries from various fields to address, inspire and motivate the students and the faculty to foster and carry forward the values of secularism, communal harmony, civil liberty and gender equality. Dr. Mrinal Pande, Mr. Ved Vyas, Ms. Aruna Roy, Dr. C. S. Lakshmi, Ms. Indira Jaising, Ms. Madhu Kishwar, Padmashri Dr. Shanta Sinha, Dr. Syeda Hameed, Ms. Vrinda Grover, Ms. Kamla Bhasin, Dr. Meenakshi Gopinath, Padmashri Dr. Mallika Sarabhai, Prof. Tripurari Sharma, Ms. Charul Bharwada & Mr. Vinay Mahajan, Dr. Swarnamalya Ganesh, Ms. Shabnam Virmani, Ms. Maya Krishna Rao, Ms. Pamela Philipose, Dr. Ginny Shrivastava, Ms. Rajni Bakshi and Dr. Varsha Das are among the distinguished keynote speakers that the School has hosted.
The Memorial Lectures were conducted via the online mode for 2020 and 2021.